About Carpet & Rug Visualizer
An innovative concept, the Carpet & Rug Visualizer is a greatly designed and executed tool which gives the power to the user itself. Naturally, the concept lets the user to try number of different choices before they could make up their mind.
About Carpet & Rug Visualizer
The world is getting smarter each day, for every task that you had in the past there is an easier alternative now. One of the major task while towards the end of the construction or a newly renovated project or maybe as a simple change to the décor, is the carpet.
What to have? How to choose? What goes well with your room? Etc
For a long time you were left with no other choice but to have those samples, or a professional interior decorator curate the best things for your floors. However, there was still no guarantee that you would like the choice of carpet on the desired space.
The issue in its whole is solved by RugView, we created the revolutionary application for rug visualizer worldwide that allows you to put your thoughts into practice in order to carve your walls and floors. We have built our inspiring visualizer of rug & carpet since we understand it might be harder to visualize how your selected rug & carpet may appear in your residence or workspace. Thus rug & carpet visualizer, allows the user to reimagine their space.
The Carpet & Rug Visualizer, lets the user try many different options of carpets and rugs on the given space which may be their own space or a room visualized from our selection. The user could use this simple tool themselves without the need of an outside supervision and from the comfort of their own space.
With its usage the application of this visualiser can be utilized by Manufactures, retailers, distributors, interior designers, architects, end customers alike, and it is beneficial and user friendly for all.
We are new and growing fast
Mission
RugView works specifically towards the needs of todays consumers and their convenience. By providing a three-dimensional visualizer for every kind of space and user interface, RugView aims to provide the best services for its user for a smooth and hassle free experience with all its tools.
Vision
RugView has a vision for creativity and ideas and delivers the finest rug and Carpet visualizer for interiors, with extensive rug and carpet library. RugView offers a strong programme for visualising rug & carpet that allows users to view a virtual layout of their environment.
Skills
RugView provides an option to its customers to preview the finalised design in just one click and download the 3D visualized room or space in an image format and as a PDF too that helps them to create a personal customized wall rug & carpet catalogue pdf, room rug & carpet catalogue pdf, rug & carpet catalogue pdf, floor rug & carpet catalogue pdf and more.
RugView Carpet & Rug features
Our rug visualiser comes complete with highly interactive and customizable grout colours, 3D room environments, inbuild rug layout visualiser with dining room rug visualiser, bathroom rug visualiser, outdoor rug visualiser, kitchen rug visualizer, bedroom rug visualiser, wall and floor 3D rug visualizer and much more.
Lets have a look at some of our salient features of rug visualiser.

Branding
The user can easily execute branding by using their own logo in the visualizer for customer's quick attraction.

Web integration
Integrate rugview in just 20 minutes. Thanks to its hassle-free incorporation in any website.

Easy Upload Rugs
With rugview, add and upload your products easily with a quick blink of an eye

Realistic Review
Rugview Review is for our improvement like any features or technical.

Save Images
With the best of previews you chose, save your favorites in the image form.

Click Room
Click and Upload the picture of your own room. Thereby add the rugs of your choice and visualize the beautiful space
Wish to have the Carpet Visualiser on your Website?
For those users who already have a business and an existing website, if they wish to have this Carpet visualiser integrated into their website, the process is very simple and effective. To bring about more traffic more and more websites have used our tools to have the traffic stay on their website, the users need not leave their web page and still can use our website.
Right from the request to execution to completely integrate our tool onto another website, the whole process takes less than a day to get final. It is absolutely easy and an effective addition to your website. The tool does not have any effect on the already existing performance of your website in terms of its loading speed. The tool is completely customizable by adding your company details and logos to make it your own. For better user experience the Visualiser tool supports many languages which directly assimilated into the tools framework, the user can use the tool in their preferred language.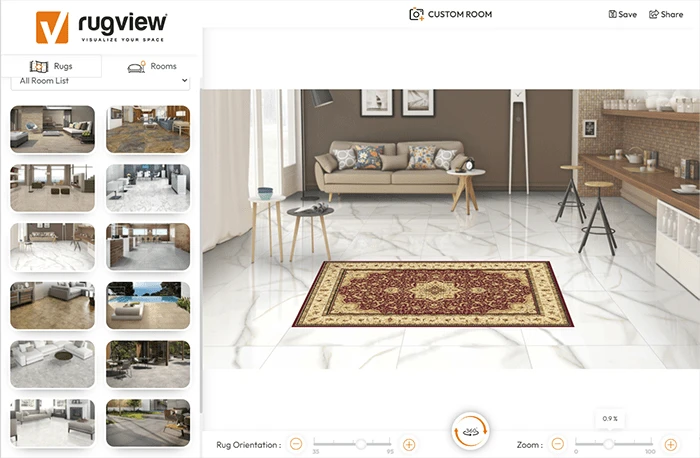 The Carpet Visualizer tool offers a collection of the finest tools for visualising the room, which will assist you in choosing the most appropriate flooring for your space. From Login to Visualisation this user-facilitated programme takes only a couple of minutes for visualising rugs on the space. RugView offers the Carpet Visualizer as an inbuilt application where the users need not install anything and directly use the service.
Though, Carpet Visualizer requires a one-time entry of your credentials to sign-up before you can use the tool. A completely user friendly interface on a Computer System, Tablet or Mobile, this tool is designed for an easy use.
The time saving attribute of the tools is the one feature which, needless to say, is the focus of the tool. Apart from, the same the user has the control to everything right from choosing the space or rug or carpet to how they decide the size and save their project. The user can then share the same finalized visuals to any of the social media platforms like Facebook, Twitter, Instagram, etc. thereby giving a more elaborate competence.
FAQs
Have you any questions about an tilesview? Check out Help Center for all the details.
RugView carpet & rug visualizer provides a set of best tools to visualize the rooms that will help you to select the best-matched floors carpet & rug for your space before making a purchase.
RugView carpet & rug visualizer is a user-friendly carpet & rug visualizing software, you can start moulding and shaping your ideas in just a couple of minutes.
No, RugView carpet & rug visualizer does need any external software or hardware installation. You just need to login to the RugView account with the valid login credentials to get started.
Yes, RugView carpet & rug visualiser is a fully responsive software and can be easily accessible on both mobile and tablet devices.
Yes, you can rotate the carpet & rug in the horizontal or vertical direction, placed by you, in the pre-loaded rooms.
Yes, you can easily customize the size of any carpet & rug used by you in the 3D space.
Yes, you can view the final look of the room designed by you and can tweak it if there is any need for improvement and as per the requirement, before finalizing carpet & rug for your space.
Yes, you can save the room layout as an image in JPEG, JPG, and PNG format.