Tilesview: You must have this visualizing tool on your tile website
Being a tile-selling website, what is the most challenging task for you? Well, the answer will be to make your customers have virtual visualizations of your tiles. And that holds because virtual visualization will help you decide if the selected tile would match your space.
But how to have virtual visualization of tiles? Well, Tilesview has a magical tool: Tile Visualiser. The Tile Visualiser allows you to have virtual visualizations of the tiles through many customizations. Doesn't it sound cool?
Now, a question might tackle in your mind: what precisely does the tile visualizer do? You need not worry; here, you will learn how the Tile Visualiser tool will benefit your website. So, let's dive into it.
What Is A Tile Visualiser Tool?
Have you ever wondered how cumbersome it can be to visualize a variety of tiles with different colors and patterns in your space? But, thanks to Tilesview that it has brought Tile Visualiser for help. Tile Visualiser, the AI-driven software, helps you virtually to visualize numerous tiles in your space interior to make a perfect match.
Moreover, the visualizer tool allows you to alter tiles' design and color combinations according to your space interior through its innumerable customizations.
TRY YOUR FIRST TILE VISUALIZER FOR FREE
The Importance of Tile Visualiser On Your Website
You might think: What wonders can a Tile Visualiser tool create for your website? The Tile Visualiser by Tilesview plays a crucial role in your website, providing numerous benefits like time efficiency, easy user experience, customizations, sales boosting, and more. Now, let's have a detailed view of these benefits:
Enhanced Customer Experience: Through its 3D rendering technology, Tile Visualiser helps your customers virtually visualize the tiles in their space design. Your customers, just by adding a few details, will be able to get perfectly matching tiles for their space in a fraction of the time. It will allow your customers to have a good experience on your website. So, Tile Visualiser eventually helps you build good customer relations in the long run.
Time Efficient: Do you find your customers confusing while selecting tiles? It may happen because they cannot correctly visualize the tiles in their space interior. This situation not only leaves your customers in an incoherent state but will also consume their time. So, what to do? Well, you need not worry, as Tile Visualiser solves this problem easily by providing virtual visualizations. Thus, saving precious time for your valuable customers and allowing them to make quick decisions.
Customization Options: What if your customers cannot find matching tiles for their space? Well, Tile Visualiser has a solution to this problem in the form of customization options. Through its numerous customization options, Tile Visualiser allows you to customize the colors and designs of any tile to match them with your space look. So, even if your customers do not find any tiles relevant to their space, Tile Visualiser will make it possible by customization. Isn't it a great benefit?
Increased Sales: With a Tile Visualiser, your customers may be able to visualize the tiles virtually, eventually leading them to buy the perfectly matching tiles. It will help your company drive sales faster.
Reduced Returns: If your website does not have a Tile Visualiser, you must be ready to face some return issues. Thinking how? Because sometimes, after receiving the tiles, your customers may find that the tiles they bought might not perfectly match their interior space. Such a situation would lead your customers to return your tiles. And such returns will not prove to be suitable for your company. But Tile Visualiser will help you prevent such a situation through virtual visualization.
After knowing these many benefits, you will have got to know why your tile-selling website needs a Tile Visualiser.
Key Features Of TilesView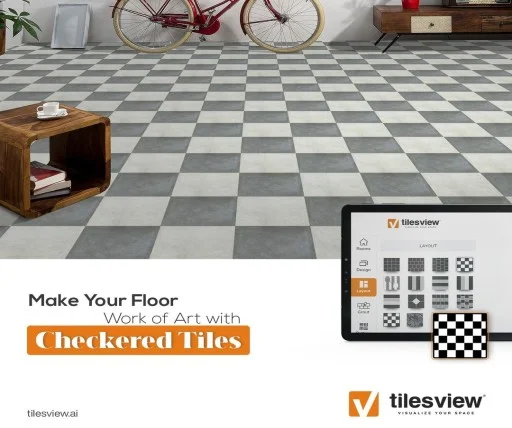 With its various spellbound features, Tile Visualiser won't fail to mesmerize you. So, let's have a look at what features the Tile Visualiser offer:
Easy User Interface: TilesView, through its easy interface, allows its end users to select the perfect tiles for their space in just a few clicks. You must select the relevant tiles, visualize them virtually, do some customizations, and get a perfectly matching tile for your space in no time.
Customizations: TilesView offers a variety of tile customizations through which you can change or update the color, designs, and patterns of a particular tile to get the tile of your own choice.
Use Of 3D Rendering Technology: TilesView, through its 3D rendering technology, allows you to visualize various tiles in your interior virtually. Such technology helps you in choosing the perfect tile for your space interior.
Mobile Friendly: Being mobile-friendly, TilesView allows easy access to Tile Visualiser tools even from your mobile phones and tablets.
Integration With E-Commerce Platforms: Besides Tile Visualiser, TilesView offers e-commerce integration that allows you to add your selected tiles to the cart and purchase the perfect one.
Multiple Tile Options: TilesView offers various tile options such as ceramic, granite, marble, and porcelain. So can have a wide range of tile options.
Overall
Tile Visualiser can benefit your website in numerous ways, like building good customer relations, sales-boosting, fewer return possibilities, and more.
Also, you won't take your eyes off its wide range of astonishing features like mobile friendliness, 3D rendering technology, powerful customizations, and easy user interface.
So, what are you waiting for? Hurry up and get this powerful Tile Visualiser from TilesView to increase the productivity of your website.
Frequently Asked Questions
1. What Is A Tile Visualiser Tool?
The Tile Visualiser tool helps you to have virtual visualizations of tiles with different colors and designs in your interior space. This technique ultimately helps you get a perfectly matching tile for your interior.
2. How Can A Tile Visualiser Be Helpful To A Tile-Selling Website?
A Tile visualizer is a beneficiary tool for a website in many ways. It can help boost your tiles' sales by letting customers have virtual visualizations. It can also reduce the return possibilities and help your customers have a clear and perfect choice of tiles for their interior space.
3. What Are The Features Offered By Tile Visualiser?
Tile Visualiser offers a wide range of features like good user experience, mobile-friendly 3D rendering technology, and easy customizations.
4. Is Tile Visualiser Tool Trustworthy?
You can trust Tilesview with your eyes closed. As, TilesView is a leading company for the best Tile Visualisers in India.