Blog
What To Know Before Starting A Floor Installation?
What To Know Before Starting A Floor Installation?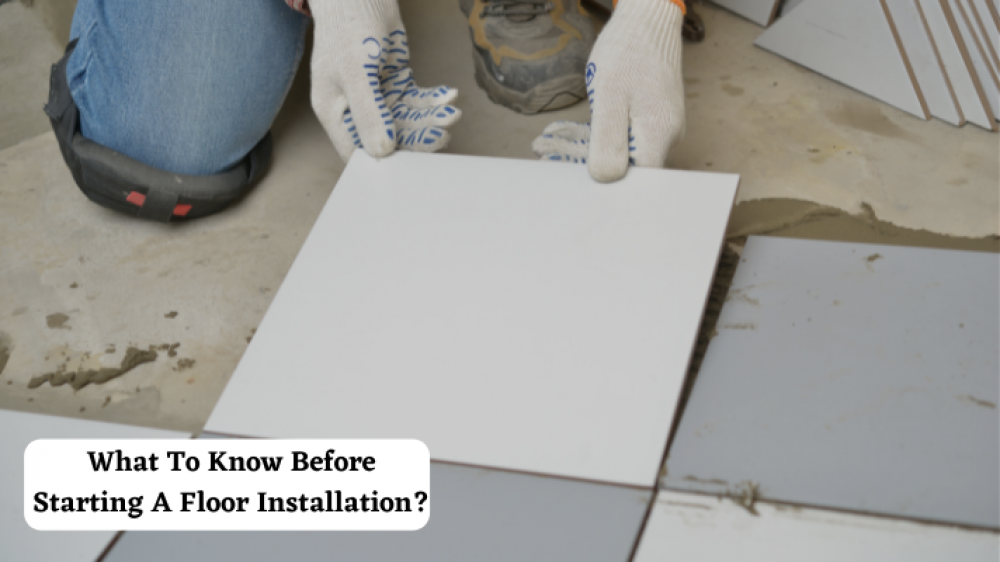 Are you thinking of installing a new floor in your home or commercial space? If yes, there are so many factors you need to consider. You have so many flooring types to choose from starting from ceramic tiles to carpet flooring.
For a newbie, it can be more daunting. Don't worry, this post will help you out.
Your flooring tells so much about your home or any other place. Installing the right flooring is one of the best investments you can make. These are the things you need to know before starting a floor installation:
Type of Flooring
First of all, you need to have clarity about the type of flooring you want to install. Each flooring type has its own style, durability, cost, etc. Different types of flooring include:
Tile
Marble
Hardwood
Vinyl
Carpet
Granite
Laminate
Terrazzo
Brick
Tile
In India, tile is one of the most popular types of flooring. Tiles are made of clay and are fired in a very hot kiln. Tiles are available in a wide range of colors, designs, and textures. Some popular types of tiles are ceramic, porcelain, vitrified, mosaic, and wood-look tiles.
Marble
Marble is another popular type of flooring material in India. Marble flooring would give an appealing look to the space. Besides this, another good thing is the flooring is easy to maintain. However, its cost is the main con. It is more expensive as compared to porcelain tiles.
Hardwood
There are people who prefer hardwood flooring over tile and carpet flooring. Hardwood floors aren't just appealing in looks, they are strong and durable as well. Another upside is hardwood flooring requires very minimal maintenance.
Vinyl
Just like hardwood flooring, vinyl is also easier to maintain. It can be a great flooring option for kitchens, bathrooms, and basements.
Carpet
Carpet flooring is comparatively less expensive to install. Another good thing is, it is safer as compared to tiles and hardwood flooring. With carpet flooring, there won't be slips and floors.
Granite
If you want highly durable flooring for space, consider installing granite flooring. Besides being highly durable, another good thing about granite flooring is less maintenance.
Laminate
Laminate flooring is often compared to hardwood flooring. In terms of looks, both might look similar, but both have different characteristics. One of the main advantages is installation. Laminate flooring is so easy to install that you can install it by yourself.
Terrazzo
Terrazzo has been around for so long. Due to the durability and wide customization available, it can be a good choice for your home flooring. However, it was a popular trend in Indian homes during the 70s and 80s. Make sure to consider the current trend before choosing any flooring type.
Brick
Brick is another durable flooring material. Apart from being durable, brick flooring is inexpensive as well. Due to high durability, it isn't the most comfortable flooring option available.
Some other flooring types include concrete, bamboo, linoleum, etc. When choosing floor type, consider factors like area, your budget, your lifestyle, etc.
Getting The Right Tools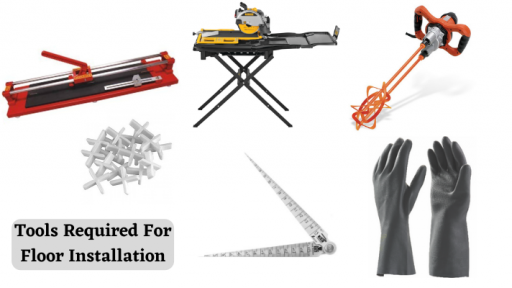 If you are planning to DIY, it's essential to get all the necessary tools. Depending on the type of flooring you are planning to install, the required tools will vary. Here's the list of required tools for flooring installation:
Manual tile cutters
Tile saws
Tile mortar mixer
Rubber buckets
Rubber grout floats
Tile leveling system
Tape measure
Tile spacers
Knee pads
Heavy gloves
Grout Color
People spend so much time choosing the right color, design, and pattern for their flooring, but they often neglect grout. Choosing the right grout color is equally important. Choosing the right grout color creates a significant impact on the overall design.
Depending on the flooring material you are planning to install, the ideal grout color may differ. This is when the importance of a visualizer comes in. A visualizer tool can help you select the right tile design and grout color.
TilesView is the best tiles visualizer tool. It allows you to add your tiles collection, pick grout color, and visualize how it will look in your residential/commercial space. Before floor installation, we advise you to visualize flooring using TilesView.
Mistakes To Avoid
Here are some mistakes people make when installing new floors:
Compromising on quality
You may want to cut down the cost for flooring installation, but compromising on quality by using cheap materials is not the solution. By using low-quality material, what will happen is, your flooring space won't last long-term.
Choosing the wrong floor material
When it comes to flooring installation, you get to choose from different materials. We have already seen different materials available for flooring installation are tile, hardwood, marble, carpet, vinyl, granite, laminate, terrazzo, brick, bamboo, and more. Make sure to consider the pros and cons of different flooring materials and then choose the right one for your property.
Not preparing a subfloor
Another mistake people often make when installing a new floor is, they neglect to prepare a subfloor. The subfloor works as an important foundation for flooring installation. First of all, you need to focus on cleaning. A subfloor with dust, paint, wax, etc. can be so problematic. Subfloor with dust, wax and improper installation will make your floor uneven.
Inaccurate floor measurements
When it comes to floor installation, you should not underestimate the importance of proper floor measurement. Incorrect measurements can lead to either shortage or excess of material. With a shortage of material, you will face difficulty in the middle of the project. And excess material will result in loss of money.
Final Thoughts
Flooring installation is one of the important investments for your house/commercial space. When it comes to floor installation, you have different materials to choose from starting from tiles & marble flooring to hardwood flooring.
Depending on your property, you need to choose the right material. We have also explained mistakes people often make when installing new floors. This detailed guide would surely help you with floor installation.
---
Article Updated:- Aug 13, 2022
---
Read More Articles:
1. Best Floor Tiles Visualizer
2. How Tilesview Can Benifit Your Business
3. A Step By Step Guide To Use TilesView Tool